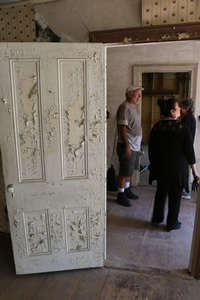 Earliest records indicate the original farm property was 100 acres but over the years lots were subdivided off until in the year 2000, East Amwell Township bought the existing farmhouse and remaining 25 acres to be used as a park. Part of the funding for the purchase was through the State of New Jersey's Green Acres program which required the house be kept and rehabilitated.
When fully restored, the house is to be used as the East Amwell Township Museum. Artifacts from the Quick Collection, currently stored in the basement of the Municipal Building, and artifacts owned by the East Amwell Historical Society will be catalogued and displayed for residents to experience their rich heritage. There will also be meeting space for community groups.
After being boarded up for fifteen years with no heat, which severely impacted its plaster walls, rehabilitation work began in the summer of 2015. With grants from the Hunterdon County Cultural and Heritage Commission and monies from East Amwell Township a four phase program began to bring the house back to its former historic greatness.
Phase 1 – New sheathing, siding, doors and windows on three sides of the building – completed in the summer of 2015.
Phase 2 – A new 200 amp electric service brought into the house, the dirt basement dug out with new cement footings, a new cement basement slab and the rebuilding of a rear collapsed wall –to be completed in fall of 2015.
Phase 3 – A new one-story addition will be added to the rear of the building. This will be the main entrance into the facility and will house a bathroom and kitchenette. The rear of the house will be finished with new siding and the addition of two windows. To be completed in 2016.
Phase 4 – The total interior of the house is to be rehabilitated. This work includes the addition of new electrical, museum lighting, a new heating and air conditioning system and a security system. It will also include the restoration of each room's interior with all walls restored, all trim duplicated where necessary and the floors refinished. Finally the house's interior will be repainted and furnished for Township resident's use.