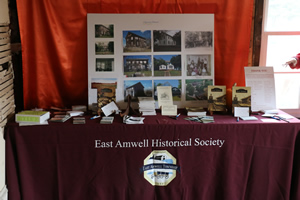 The goal of the East Amwell Historical Society is to promote local history. Through numerous educational events and programs, bus tours, and walking tours we strive to educate and increase awareness of the public to our rich heritage. We also collect historical memorabilia from our past and are working on building a research library that will be open for use by the community. For the past few years we have sponsored a Holiday House Tour in December which is always sold out. Our monies come from donations at our events and grants from various community organizations. We are determined to see the Clawson House renovation completed so a township museum can be established. As a 501c3 non-profit entity, all donations are tax deductible.
East Amwell Historic Preservation Committee
Created by ordinance, the Historic Preservation Committee is tasked with preserving and uplifting the historic resources of the township by working with the Planning Board to review and create ordinances and working with residents to inform and advise. Keeping an inventory of historic resources, the committee seeks to manage change and maintain the benefits of our rich heritage. In the past the Committee has worked to designate historic districts in Ringoes and all five hamlets. Presently we are working with the County to develop and update a photographic inventory of all historic structures in the township.Through seeking and administering grants and volunteer labor we too are working to rehabilitate the Clawson House.