Preserving Clawson House
HISTORY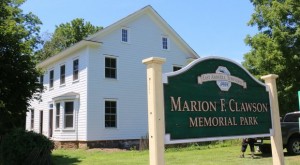 Earliest records of the Clawson farm mention a house on the property in 1810. Architects and restorations however think it may be much older than that, perhaps as early as 1760. Large rooms with high ceilings set the house apart from other local houses built about the same time.
Originally the house had at least four interior fireplaces, with a one-story lean-to kitchen at the rear. The house is a typical center hall colonial with a large room with fireplace to the left and two rooms to the right. These two rooms were "Victorianized" in the late 1800's by the addition of a front bay window, pocket doors and heavy Victorian moldings. Upstairs the house has five rooms, the smallest, a nursery in the front center of the building. Much of the original woodwork, early doors, wide pine flooring (13"), and hardware remain. The main staircase, all original, is particularly attractive.
Through various relatives, the Clawson house has been in the same family for over 100 years. Harold and Marion Clawson inherited the house in 1942 from the estate of Peter Rockafellow, Harold's great uncle. Peter and his brother John Rockafellow had lived there as bachelor brothers in the early part of the 20th century and they had in turn inherited the house from their sister Anna's family, the Sebrings. An East Amwell map from 1853 shows Augustus Hunt residing there, another distant relative.